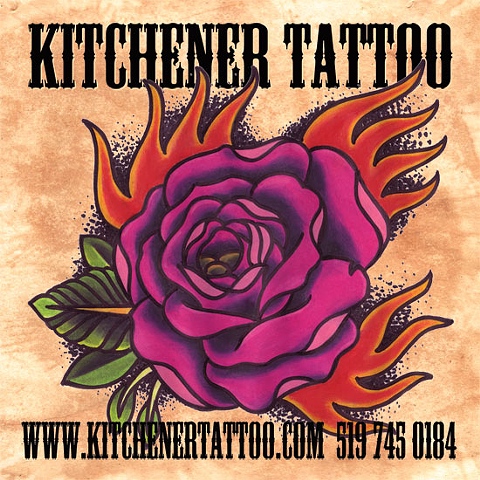 If you have questions/concerns kitchenertattoo@gmail.com text or phone 519 745 0184. Please be patient - we are a small shop and will need time to meet the requirements to safely take care of ourselves and our clients safely. If you don't get an answer please feel free to leave a message or email us - we check both well past shop hours.
Each person takes care of their own appointments.
Ren and Nivek kitchenertattoo@gmail.com txt and phone 519 745 0184
Gary mrgary00@gmail.com txt and phone 519 781 8799
Gary, Ren, Nivek and Jon
SHOP Number is 519 745 0184 - kitchenertattoo@gmail.com
Gary can be contacted via mrgary00@gmail.com or by calling/texing 519 781 8799


*************
This year marks 15 years for Kitchener Tattoo.
We prefer custom work as much as possible but we do have flash. If you have an idea we would love to have you come in and talk. You can call or email to set a free consultation. Your art or ideas can also be e-mailed to us if you are unable to print it. kitchenertattoo@gmail.com. 519 745 0184 for Nivek or Ren.
If you wish to contact or book with Gary he can be contacted directly via email at mrgary00@gmail.com or by calling 519 781 8799
If you get voice mail during regular shop hours please leave a message and we will get back to you asap. We're a small personal shop, and this sort of customer attention doesn't always allow to answer the phone immediately.
NEW HOURS Summer hours - last appt is 6
TUES-FRI 12-6 SAT 12-5
Close time is last appt time, but you are always welcome to call.
We are at 983 King ST E., Just up from King ST E and Borden. Red house.
Tattoos are guaranteed for 6 months as long as proper aftercare and care is taken of the tattoo.
Appointments are available on Sundays but they MUST be pre-booked
We accept Visa. Mastercard, Debit and CASH